This Beautiful Sunshine and warm weather that's we've had today had me thinking about my childhood and warm weather… my Aunt would always have a Gallon Glass Jar of Sun Tea setting on handrail of her porch growing up, so I thought I'd share the recipe today for someone who would love to try this!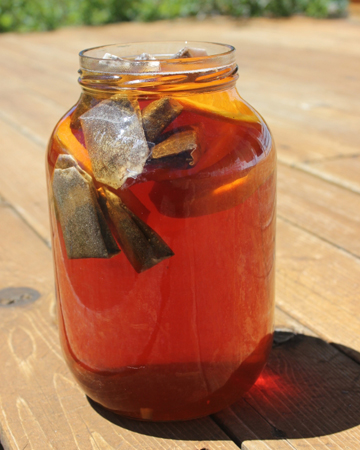 Ingredients
Glass Container
4-8 tea bags
Water
Sugar
Sliced Fruit
Method
Put 4 to 8 tea bags into a clean 2 quart or gallon glass container (4 teabags for a 2 quart container, 8 tea bags for a gallon container). Fill with water and cap. Place outside where the sunlight can strike the container for about 3 to 5 hours. Move the container if necessary to keep it in the sun. When the tea has reached its desired strength, remove from sun add sugar and sliced fruit  ( if desired) and put it in the refrigerator. You may or may not want to remove the tea bags at this point.
The tea will probably taste more mellow than what you are used to from using boiling water. The slow steeping has a way of bringing out a slightly different flavor from the tea. Also, because you didn't use boiling water, you should refrigerate the tea and drink it up pretty quickly – a day or two. It will not keep as well as iced tea made from boiling water.